Bill Gates, Warren Buffett, Michael Jordan and Bill Clinton - what do they have in common? They're all synonymous with the field in which they worked. When you think of Jack Dangermond, you think about GIS.
Lanky, bespectacled and a touch harried, Dangermond doesn't cut the figure of an industry titan. He exudes the air of a man who was determined to follow his dream, as well as someone who is still slightly astounded by the success he has attained. Dangermond, above all else, is passionate about GIS.
In this rare interview, he sat down with Government Technology to detail ESRI's growing Web presence and chart the company's future. He also explained FedStat, a proposed stimulus dollar-tracking solution based on a program initiated by Maryland Gov. Martin O'Malley called StateStat; itself an evolution of New York City's legendary CompStat, a system of allocating police resources based on spatial data. In addition to stimulus spending and tracking, Dangermond explained the important role GIS will play in infrastructure, smart roads, energy, cloud computing and more.
What exactly is FedStat and how might it pair with Obama's initiatives?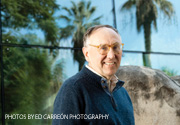 A couple years ago, Maryland elected a new governor, Martin O'Malley. He used to be the mayor of Baltimore. In Baltimore, he used our tools to build CitiStat, a set of tools and procedures that allowed him to see everything that was going on in the city - the status of things, where the issues were and also how his people were working on these issues. He also set up systems to do performance measurement on how they were able to change the status of things through government expenditures. This rational, open, transparent system made the city better as a result of using GIS tools, and it managed the city in such a way that people were held accountable for their actions in a public-policy environment.
Photo: Jack Dangermond and his wife Laura founded Environmental Systems Research Institute -- or ESRI -- in 1969. After earning a master's degree in environmental science and landscape architecture, Dangermond returned to his Redlands, Calif., home to start a company he hoped would improve the environment. Today, ESRI employs nearly 2,500 people and serves more than 1 million customers worldwide.
When he became governor, he contacted us and we re-engaged with Maryland in an interesting way. We began to take his same concepts of accountability of CitiStat and expand it to StateStat and BayStat, for the whole Chesapeake Bay, so that he could rationally understand where the issues were - in the case of Chesapeake Bay, where to put money to clean up the water, measure the effect of his expenditures and do the same thing in highways and all government expenditures. When [President Barack Obama] was elected, he looked at Maryland and thought, "Can we take this same vision to the federal level?" So we began to prototype and play with the vision of FedStat. The examples we've been looking at give some of the early prototype evidence of how to take government expenditures - first stimulus funding and later all government funding - and visualize where the money is going and hold the people who are spending that money more accountable with performance measurement.
It's a whole new frontier for GIS. It's taking the