2008 may have been The Year of the Large-Scale Wireless Video Surveillance System, as several cities and their police departments joined the growing market, while others expanded existing systems.
These systems stream high-resolution video to monitoring stations and police squad cars from cameras strategically located throughout downtown areas or other high-priority, high-crime districts. The cameras can prove valuable to police and prosecutors for capturing and convicting criminals and as a crime deterrent.
There are a few factors driving interest in these mostly hybrid fiber/wireless systems: a convergence of technological advances that complement existing infrastructure; the availability of licensed 4.9 GHz spectrum for public safety; and in some cases, the availability of homeland security grants to fund these projects.
Most of the recent deployments combine a fiber infrastructure with a mesh network, utilize multiradios (where a radio accompanies each node on the system) and the 4.9 GHz band - which was allocated for public safety use by the FCC in 2002 to align with U.S. homeland security needs - and capitalize on the shift from analog to Internet protocol (IP). Another key shift in the industry is proprietary hardware systems are being replaced by software-based digital video management systems.
"The good news is that all the new pieces of technology come together in the systems where it's now open, standard, scalable; you can swap out any piece for any other piece," said Jasper Bruinzeel, vice president of marketing and sales for Wi4Net, a wireless broadband and video surveillance provider.
Hybrid Systems Grow Popular
Oklahoma City; Milwaukee; Long Beach, Calif.; Reading, Pa.; and Chicago have dived into the market in a big way. Milwaukee's system covers 97 square miles and has 15 cameras so far, with more to be added later. The cameras stream real-time, high-resolution video to a centralized monitoring facility, where the video is stored for 120 days with 30 terabytes of storage. The storage is direct-attached solution that can expand as needed. Milwaukee's video system is designed to scale to more than 100 cameras.
The hybrid systems include the benefits of fiber without the costs of building a complete fiber infrastructure. For example, the city of Reading wrote an RFP for a fiber solution but instead opted for the hybrid developed by Wi4Net, according to Bruinzeel.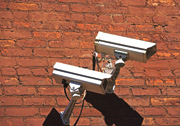 "In the process, we said, 'Wireless is available and has the ability to give a fiberlike experience if you design it right,'" Bruinzeel said. A 100 percent fiber solution wouldn't have been cost-effective and wouldn't have met expectations for video resolution and frame rate. The hybrid solution can run at 30 frames per second at high resolution.
But there isn't a one-size-fits-all formula.
"It really depends on the city and what their expectations are," Bruinzeel said. "In our Long Beach deployment, we're expanding from 29 to 59 cameras and it all aggregates to a single aggregation point in 4.9 [GHz]; there is no fiber. To bring those 59 cameras all in one location, we're running those streams at six to eight frames per second."
That's still a big improvement over the first-generation dual/single mesh radio approach that has limited capacity, Bruinzeel said. "You would never bring 59 cameras to one location [with dual/single radio]; if you bring 10, you are doing well."
Single- and dual-radio networks are subject to congestion as the number of network users increases. By contrast, multiple-radio networks feature a radio that accompanies each node on the system, which ensures that there's no interference.
Though Reading built its system from scratch, one benefit of the hybrid system is the