Bureaucracy faced a blow recently that could save lives. The Association of Public-Safety Communications Officials (APCO) announced the approval of a national standard enabling alarm companies to automatically transmit alerts to 911 centers. Alarm vendors typically place a phone call to 911 centers when an alert sounds.
An automated standard could eliminate 32 million of these calls nationally, erasing minutes of processing time 911 call-takers need for obtaining information from alarm company operators, explained Bill Hobgood, public safety team project manager of the Richmond, Va., Department of IT. He led pilot testing of the standard in Richmond, which eliminated 5,000 calls during its two-year time span.
"That means police, fire and emergency medical services will get to the scene of an emergency two and a half to three minutes faster," Hobgood said.
Roughly 90 percent of the alarm alerts an alarm company receives never make it to 911 centers, explained Pamela Petrow, chief operating officer of Vector Security Inc., the alarm company that participated in Richmond's pilot. Phone call follow-up authentications reveal most alarms to be false. Under the new standard, once an alarm company determines an alert to be legitimate, alarm monitoring software transmits the alert to the appropriate 911 center, which then routes it to the local police, fire or emergency medical services computer-aided dispatch (CAD) system.
Getting Started
A 911 center or police department would likely be the entity initiating the national standard in its community. Hobgood highlighted the importance of building a coalition from the beginning. Richmond's pilot involved one alarm company and two 911 centers, one in Richmond - part of the Richmond Police Department - and the other in nearby York County.
Richmond Police Capt. William Smith enthusiastically supported the pilot.
"When you take away those two to three minutes, you get police officers responding to an incident that much quicker. The probability of catching the suspect goes up tremendously," Smith said. "It doesn't sound like that much time, but if you're in a fight, it's the difference between visiting the hospital and not."
Bad Directions Banished
One reason Smith said he supports the standard is that it will force participating alarm companies to purge their customer databases of address errors. Implementing the new system makes customer databases with 100 percent accuracy essential because the 911 center's CAD system will automatically reject alerts it doesn't recognize. Address errors send police officers on wild-goose chases when they discover no alarm sounding at the home or business indicated by the alarm company. Human error at the alarm company or 911 center is usually the culprit, Petrow said.
Hobgood played recordings of this misinformation happening between call-takers for Smith when soliciting the captain's support.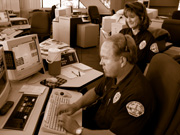 "Before, when we would just verbally give the information to a call-taker, they would sort of screen or decide what was passed on," Petrow said. Under the new standard, the alarm company passes specific information to the 911 center. This alleviates legal liability for the alarm company, which can avoid blame for inaccurately communicated address information.
Oftentimes an alarm company has a customer listed under the wrong police jurisdiction - often the result of customers submitting incorrect data when they sign up for the company's services.
That accuracy will be a welcome improvement for alarm company phone operators, who periodically endure long hold times when calling 911 centers, only to be told the address they're passing along isn't in that center's jurisdiction.