As the nation continues debating how to transform health care, many ideas for improving patient care have surfaced. One solution is letting patients access their medical history via personal health records (PHRs), which are repositories of individual health information culled from multiple sources.
Most PHRs and electronic medical records (EMRs) are managed and controlled by medical personnel, rather than the patient, and are based on industry standards. So data can be transferred easily from one system to another. While EMRs are just beginning to permeate doctors' offices, PHRs are picking up steam with insurers and other health providers, which offer PHRs to the populations they serve. Anyone can sign up with a provider for a PHR -- some insurers offer them, as do Google and Microsoft. The federal government's Centers for Medicare and Medicaid Services (CMS) has launched several pilots involving PHRs. The programs are aimed at tech-savvy baby boomers who are rapidly approaching retirement age, and many of whom will enroll in Medicare. PHRs may prove useful for boomers trying to stay healthy through their golden years.
"CMS is interested in people getting the best health care they can get," said Elizabeth Holland, a health insurance specialist with CMS, "and this is really a step toward empowering people and helping them make the best decisions about their own health care."
Years in the Making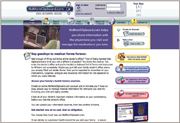 According to Holland, CMS began exploring the use of PHRs in 2005 when it released a request for information. "The overwhelming response was that CMS should provide data to PHRs, but we should not build our own PHR," Holland said. "So we proceeded with that in mind."
That led to a pilot in which the agency worked with its claims processor for South Carolina to populate PHRs provided by HealthTrio with Medicare data. The pilot showed it was feasible to transfer Medicare claims data to a PHR.
Now, CMS' newest pilot is geared toward giving patients a choice of PHR providers. "We knew that we wanted to be able to share Medicare data with multiple PHRs," Holland said. "What we didn't know is how beneficiaries would make that choice."
Working with Noridian Administrative Services -- the Medicare claims administrator for the U.S. region that contains Arizona, Utah and several other states -- the agency launched its PHR Choice pilot in January. Through this pilot, Original Medicare (fee-for-service) beneficiaries in Utah and Arizona can have Part A and B claims data transferred automatically to a PHR provided by PassPortMD, Google Health, HealthTrio or NoMoreClipboard.com.
Noridian handled the solicitation, while Medicare laid out the basic criteria that the PHR providers had to meet. CMS pays Noridian to transfer the data to the PHR providers, but the providers aren't paid for their involvement. The basic PHR is free for beneficiaries too, although some of the providers offer add-on services for a fee.
The providers offer different ways of viewing data and various tools to help users manage their health data. "All of them have different bells and whistles," said Holland, who is the pilot's director.
A Little Overwhelmed
Holland said the agency is still experimenting with how best to reach and inform beneficiaries about the different PHRs. "Honestly we're finding that they are a little overwhelmed by the choice," she said.
Some beneficiaries aren't sure what to make of the program, she said, based on feedback the agency receives from its regional offices and the state senior health insurance assistance programs (SHIPs), which use volunteers to help beneficiaries understand and sign up for programs.
"The SHIPs are getting a lot of questions: 'Is this really Medicare? Can I trust these