At 10 a.m. on Nov. 13, 2008, Southern California experienced a "shaking" unlike anything felt in the region in more than 100 years. A magnitude 7.8 earthquake dubbed The Big One hit the southern San Andreas Fault near the Salton Sea and impacted Imperial, Kern, Los Angeles, Orange, Riverside, San Bernardino, San Diego and Ventura counties.
The quake and its aftershocks produced between 10,000 and 100,000 landslides. Fires erupted across the region. Five high-rise buildings in Los Angeles collapsed. Roads, railroads and utilities that cross the fault were ruptured. The worst damage was in the Riverside and San Bernardino areas, where the shaking was the strongest and longest. Emergency responders had to cope with chemical spills and potential dam ruptures. Overall, the region suffered 2,000 deaths and more than $200 billion in losses.
Thankfully it was a drill - but one that foreshadowed the chaos that would ensue after a three-minute quake that some seismologists predict is coming.
How ready are the public, first responders and emergency management officials for such a scenario? That's one of the questions regional officials hoped to answer during the November 2008 drill.
Based on this scenario, the Golden Guardian emergency response exercise and the Great Southern California ShakeOut, a drill for the public, were designed to test California's ability to respond and recover during a catastrophic earthquake.
The first thing emergency management officials should realize about a quake of that magnitude is that initially they'll be overwhelmed, said Dennis Mileti, a member of the California Seismic Safety Commission.
"This quake will be unlike any drastic emergency anyone has experienced or can remember," said Mileti, a professor emeritus in sociology at the University of Colorado and an expert on the societal aspects of hazards and disasters. "It is a class apart. That has ramifications for public information, sheltering, food and water, fire suppression -everything flows from that."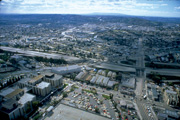 Mileti is quick to point out that because it's so well practiced, California's emergency response community is among the best in the country. When overwhelmed in a normal emergency response, such as during huge fires, unaffected neighboring communities help in mutual aid pacts. However, in this quake scenario, that won't happen right away, he said. For instance, in Riverside and San Bernardino counties, there won't be any way for other responders to get there. "Riverside County will be ripped in half," he said. The I-10 freeway sits on top of the fault in many places, and it will be torn in two. Airports won't be functioning initially. So local emergency response teams in towns and villages, such as Rancho Mirage where Mileti lives, will be on their own. "That doesn't mean they won't work tremendously hard," he said, "but the demand will be way beyond their capacity."
This means everyday citizens will play an important role. "The real first responders are victims," he said. Studies of large earthquakes have found that 95 percent of people rescued were saved by other victims, not by search-and-rescue teams or firefighters.
Emergency responders will get some things up and running in about a week, but until then, the citizenry is on its own for basics like food and water.
Creating the Scenario
The ShakeOut Scenario was the first public product of the U.S. Geological Survey (USGS) Multi-Hazards Demonstration Project. It brought together 300 seismologists, engineers, social scientists and computer experts from around the world to make projections to help Southern California improve its resiliency to natural disasters through improved planning, mitigation and response.
Why did they pick the southern part of the San Andreas? That section of the fault has had a quake on average every 150 years, yet it hasn't moved for 300 years. "Many seismologists think