Berkeley, Calif., is at the forefront of trying to mitigate earthquake damage rather than just responding passively to what's perceived by many as inevitable.
In addition to retrofitting fire stations, historic buildings and landmarks to meet earthquake safety standards, and offering tax breaks to homeowners who do the same, Berkeley has teamed up with its well known university, the University of California, Berkeley (Cal), to train students in disaster response and equip them with the supplies that are necessary to help.
"If you look at the greater good - especially if you live in a community that is subject to fires, earthquakes, tornadoes, hurricanes, tsunamis - you have to have a plan in advance," said Gil Dong, deputy fire chief of the Berkeley Fire Department. Hurricane Katrina was instructive, he said, because it showed that if people don't take the time to prepare, a lot of them will be left waiting, which could lead to more injuries and deaths.
The No. 1 benefit of the student responder program is that more people will be there to help when an earthquake occurs.
"For some people who don't know how to take care of themselves in disaster situations, there will be people who know what to do," said Bradley Kerr, a junior at Cal who is majoring in environmental science and is the Interfraternity Council (IFC) vice president of risk management. "For the majority of the populace that doesn't take the time and wouldn't even consider that an earthquake might happen until it actually is happening, there's already something in place to help protect them and keep them safe."
Students, Supplies and Training
Berkeley's preparation now includes Cal students who live in fraternities, sororities and co-ops. They are being equipped with emergency training and supplies.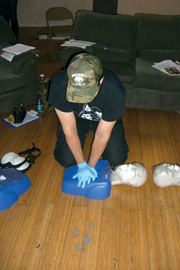 "They're already organized, they already have a leadership structure - how about we give them the incentives to work together as clusters and offer them the equipment?" Dong said. "They live about 50 feet from the top of a fault line, which scientists have predicted will produce a major earthquake in the [San Francisco] Bay Area. It happens every 140 years, and it's been 140 years since Hayward Fault ruptured."
More than 2,000 students at Cal receive basic supplies, like a generator, goggles, fire extinguisher, portable lights and two-way radios. A total of six equipment caches were obtained through an $18,000 grant that Dong applied for and received. The students also receive training in at least some of the following courses: basic preparedness, fire suppression, light search and rescue, disaster first aid, disaster mental health, radio communications and incident command systems.
Besides filling a critical public safety need, it's also an opportunity to fortify the public image of the campus's Greek system, Kerr said.
"The chapters are required to attend training, but we usually get more numbers than that because the things we're teaching people - fire suppression, emergency first aid, triage, light search and rescue - are good life skills that a lot of people are interested to learn. They just didn't have an outlet through which they could help; they didn't know how to help," he said. "So we're saying, 'Look, in case something goes wrong, here's how you can help; here's how you can be prepared; here's how you can make things better.' We're giving them a lot of power to take control of things. They're very responsive."
The courses are taught through the Berkeley Fire Department, said Jennifer Heller, communications coordinator of the Berkeley Student Cooperative.
"Students take the courses for their own edification, and for the greater good of their fellow co-opers," she said. They don't earn credits toward a