Colleyville, Texas - population 23,261 - is a quaint town with big-city ambition, and for good reason. Colleyville has seen an estimated 15 percent population growth in the last eight years, with the majority of people coming from the surrounding Fort Worth-Arlington metropolitan area. With planning and development opportunities in tow, these urban dwellers have put the city's building inspection, planning and permitting services in high demand.
Operating on a predominantly paper-based system, it didn't take long for Colleyville officials to realize that keeping up with the needs of a growing population - accustomed to the technologically advanced amenities of a large city - would require them to switch to an automated process. The solution came from CRW Systems Inc.'s TRAKiT.
Coming Together
Colleyville began shopping for an automated solution in 2007, hiring Building Official Bill Elliott to initiate this process. Elliott hit the ground running, gathering a group of stakeholders. Officials came together from the building inspections, code enforcement, planning, finance, community development, emergency response, police and fire departments to discuss their challenges and needs.
"Everyone put in what they wanted from the very beginning so that the city got a product that worked with everyone's needs and made them think about how they were going to change their process," Elliott explained.
Even so, departments providing planning, inspections and permitting services were in most immediate need of an automated operating system to accommodate the surge in service requests resulting from the population increase.
In the past, those processes had been primarily paper-driven, creating several operational issues. Departments had difficulty sharing information because they all maintained their own files.
"All the work of the planning department is in their files, and only they really understand it," Elliott said. "Then they get to the building inspection department. ... We take in building plans, store them and create building permit files in paper files. Then down the line, if the city secretary needs information, she creates her own file separate from ours. We were totally duplicating."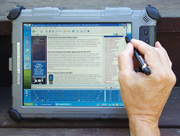 Photo: Colleyville building inspectors carry handheld devices, right, that allow them to access and update case information in real time. Constituents and city departments can then view the data instantly.
Other issues persisted with the paper-driven system. City officials played beat-the-clock when attempting to meet public information requests in the state-mandated 10 days. Information stored at remote facilities was often lost after the employees who stored them left. Officials spent a lot of time tracking down records and accurate information on cases from different departments. All of these issues added up to inefficiency and low-quality customer service - a concern for Colleyville, according to Elliott.
To end an era of redundant, fragmented and labor-intensive city services, Colleyville sought a customizable IT solution for each department's needs. The solution would need to store information digitally, smoothly convert data from existing infrastructures into new ones, and most importantly, meet the performance expectations of the city's urban transplants.
Something for Everyone
TRAKiT offered Colleyville a comprehensive package that's actually several solutions in one.
To address permitting-related issues, the city turned to PermitTRAK. Used by departments performing inspections and issuing permits, this software lets users schedule inspections and upload results onto a central database. The software further streamlines the permitting process allowing employees and the public to view details pertinent to the applicant file. City employees can also create department forms and permits automatically, furnishing the documents with information from the database.
Another software component, ProjectTRAK, helps the city better manage planning and development projects. The public and users can view the