This article was adapted from a presentation by Jeannette Sutton at the 2009 World Conference of Disaster Management.
We know a lot about how people react in disasters, and emergency managers can draw on that knowledge and background. For example, we know how people communicate in disasters, and we know how to build effective warning systems so failures are designed out. We know how to develop messages that most directly impact people so they will take protective action. And we know how to craft preparedness campaigns to help people prepare for disasters. But can we take what we know and apply it to the use of social media in disasters? To answer this, I draw from research on three cases: the Virginia Tech shooting, the Southern California wildfires of 2007, and the 2008 Democratic National Convention.
Immediately after the Virginia Tech school shooting on April 16, 2007, my colleague Leysia Palen, who is an assistant professor of computer science at the University of Colorado, and I sent two graduate students to Blacksburg, Va., to investigate how people were sharing information, what tools they were using, and from what sources they were receiving their information. When the graduate students returned from the field after talking with students, faculty and community members, we started gathering data online to learn how that community used social media.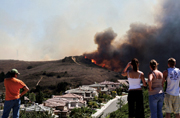 We focused on Facebook. We archived the different groups that emerged around issues of information sharing and condolences related to the school shooting, and ones that had the largest numbers of participants. And then we looked at the conversations between people.
What was most interesting about the ways students and others used Facebook during this event was how coordinated the information sharing was and how people were instrumental in gathering knowledge from different parts of the United States to answer a particular question: Who were the deceased? Late in the morning of the Virginia Tech shooting, the university announced that there were a number of deaths. It initially didn't say how many. But students immediately began identifying people they knew had been killed and posted the information to various Facebook groups. By the late afternoon, the university announced that there were 32 deaths. At that point, we observed students and others on Facebook ramp up their investigation and information sharing to the point that by the next day, they had identified all 32 victims before the university officially released their names.
This is an amazing feat. They used their informal networks to identify the names of the students who had been killed. This does raise the question about whether this information should be shared on an open platform like Facebook. But the power of collective intelligence that was observed through Facebook showed that there's a great deal of power in these distributed networks and that wisdom can rise up through the crowd.
What's also important is that in the lists we looked at, we never saw a wrong name. And there was turn taking: Every time someone listed a death, they had to include their source. This certainly lends some credibility to how people are sharing information.
Where People Turn
The Southern California wildfires of 2007 led to the evacuation of much of San Diego. During this disaster, I worked with Palen and Irina Shklovski, a postdoctoral researcher at the University of California at Irvine. Shklovski went to evacuation sites to ask people how they were sharing information