It happened almost instantaneously: there and then gone.
Just after 6 p.m. on Aug. 1, 2007, the Interstate 35W Mississippi River Bridge in Minneapolis fell, killing 13 people and injuring 121 more. The span stood for 40 years, and then dropped without warning.
The fallen bridge left a jumble of twisted steel and pulverized concrete. Vehicles were hanging precariously over the river, lying like wreckage on the bank where they fell or sunk amid the swirling river waters.
The emergency response was swift and massive, bringing together myriad local and federal authorities. It was a response no doubt aided by years of communication bred by a post-9/11 FEMA course that developed relationships and cooperation throughout the years, and led to the purchase of a new radio system.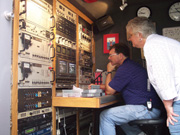 Minneapolis, Aug. 6, 2007 -- Bettina Hutchings, FEMA broadcast unit leader (right) and Mike Neapolitan, a video cameraman and technician with Mobile Video Services, preview video in the mobile satellite vehicle near the site of the I-35W bridge collapse in Minneapolis. FEMA provided a five-person mobile video team to support the Minnesota Division of Homeland Security and Emergency Management.
Minneapolis and the Hennepin County Sheriff's Office drew support from adjacent counties and cities, as well as the U.S. Army Corps of Engineers, U.S. Coast Guard and U.S. Navy.
In the wake of the tragedy, the response was deemed a success, but of course, not without some lessons learned. Rescue and recovery were executed without injury despite treacherous conditions. Responders cooperated closely and the public was kept informed.
Ask those who were there and their testimony is uniform: Success was the result of human ties - ongoing personal connections that already existed between members of the area's many responder organizations. These connections and their foundations were laid long before the bridge went down.
Developing Ties
The response to the bridge collapse found its roots in a FEMA course held in the aftermath of 9/11. In March 2002, FEMA brought together city and county officials to perform preparedness exercises in a four-day integrated emergency management course.
"We fumbled our way through the first exercise, we got better on the second one, and by the third, we were pretty good," recalled Jim Clack, Minneapolis fire chief at the time and now chief of the Baltimore City Fire Department.
The course highlighted various shortcomings in the local response system, but more than that, the FEMA training began the process of relationship building among emergency professionals.
Clack said he made it a point after the FEMA training to talk to every city council member one on one. Others followed the same course, forging a network of personal ties that proved its worth on Aug. 1. "The theme around the whole thing was knowing the people personally and having their cell phone numbers in each others' cell phones," Clack said. "Those personal relationships were crucial."
Though professional friendships were clearly a factor, those on scene said that interpersonal connections, in another sense, played a key factor in the response effort. "People knew they had to take orders and report to somebody," said Rocco Forte, who as assistant city coordinator brings together city departments on emergency management issues. "That sounds very simplistic, but it is very important during a large event like this."
The bridge effort succeeded because a chain of command was present and trained people were in control, Forte said. "You needed somebody who has that paramilitary sense to them, and when they gave an order, you needed people who knew that order had to be followed."
Building Infrastructure
Interpersonal preparedness