When Tad Agoglia, president of the First Response Team of America, walks into your emergency operations center and offers immediate, free disaster response assistance -- complete with his own equipment and team -- you may ask yourself, "Am I dreaming?" No, you are not. And no, you are not on Candid Camera.
Agoglia and his team go to disaster scenes to remove the obstacles that prevent local first responders from helping their community.
"We watch weather patterns, we watch radars and we decide when a storm is severe enough that we should respond," Agoglia said. "And when we respond, we always work and serve for free under the local emergency and government officials."
Finding the Need
In 2005, Agoglia created Disaster Recovery Solutions to clean up debris from man-made and natural disasters. Within three weeks to two months following a disaster, the for-profit company receives contracts to aid in long-term recovery.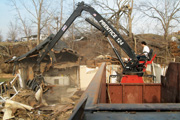 Photos: The First Response Team travels to communities that have been hit hard by disasters to aid local first responders. The team chooses which locations to help based on death tolls and amount of structural damage.
After responding to hurricanes for a couple of years, Agoglia said he started wondering what kind of response follows directly after the storm. "I used to look at the news, and I would see a report of a big tornado that wipes a whole city out," he said. "I would look at them and say to myself, 'I wonder what those people are going through; that massive storm must have completely covered those roads with debris, houses and trees.' I started out by saying, 'I wonder if I should just maybe go there for free and clear the roads for these communities, just so that ambulances, fire trucks and state troopers could get through.'"
That's exactly what he did in May 2007, when Greensburg, Kan., was hit by an F5 tornado. Agoglia headed there with a crane and some other equipment and removed debris from the roads to open them up for first responders. The experience reinforced his belief that debris removal was needed immediately after a disaster. But he saw a need for much more. "In the response phase -- responding to a disaster just after it happens -- I saw food and water coming in, but I didn't see any heavy, specialized equipment," Agoglia said. "And in fact, on top of that, I didn't see any specialized equipment for dealing with storms coming in, which is what I have."
The income generated from Disaster Recovery Solutions provides the funding for the First Response Team. In May 2008, Agoglia submitted the paperwork to make the team a nonprofit organization. As of October 2008, he said the nonprofit had only generated $22,000 in donations, which covers about 10 days of operating costs.
Metal Battalion
The First Response Team has $1 million worth of specialized equipment, which is hard to miss as it rolls into a disaster area. The most visible pieces are two black grapple trucks can each carry 120 cubic yards of debris weighing up to 155,000 pounds. Each truck has essentially 10 pieces of equipment -- including a crane -- molded into a self-contained unit that's managed by one person. According to Agoglia, the cranes have massive, hydraulic claws that can demolish and clear away a home that's blocking a road in only 15 minutes, or simply toss a car out of the way.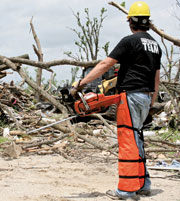 That's not the only equipment the First Response Team brings. A hovercraft works as the rescue boat. "In the