Alabama Gov. Bob Riley demonstrated the power of high-speed Internet today when he brought together Alabamians at various locations around the state for a discussion through a video connection made possible by broadband.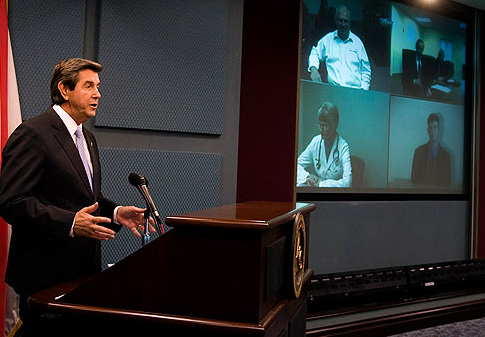 Photo: Gov. Riley discusses the need to expand high speed Internet access to rural areas of the state. With a broadband connection, the governor is able to communicate with people from locations across the state on the screen behind him.
The demonstration highlighted the governor's broadband initiative, which aims to bring high-speed Internet access to every community in the state. The connection allowed Riley, who was in Montgomery, to interact and see a pediatrician in Brewton, a farmer and elementary school teacher in Lamar county, a business leader in Mobile, and a judge and sheriff in Shelby county. All of them spoke about how broadband plays a vital role in their professions and how the state would benefit from greater access to broadband.
Riley said the discussion is a reminder of how important it is for the state to move forward on expanding broadband access.
"Although broadband on its own is not a silver bullet for prosperity, adequate broadband access is an enabler for economic development and for enhancing the lives of our citizens," said Riley. "We started the Alabama Broadband Initiative to make sure small towns and rural communities don't get left behind. Rural communities offer so much in quality of life and have so much potential. But without sufficient access to broadband, these communities and their residents will remain technologically isolated, and thus, disadvantaged."
One success the broadband initiative already has had is the Connecting Families program, which was launched in December. Thanks to a partnership between the broadband initiative and the Alabama Public Library Service, 107 libraries across Alabama have received computers with videoconferencing capabilities. This allows families in Alabama with a loved one serving overseas in the military to visually communicate by using the computers at one of these 107 libraries.
Riley created a bipartisan 34-member advisory committee to oversee the broadband initiative. The committee contacted more than 2,000 potential vendors to work on the project and the governor announced today that CostQuest Associates, which submitted the lowest cost proposal, was selected for a two-year contract for $1.7 million. The funding for the project comes primarily through grants. The company will work with Alabama's Internet service providers to identify gaps in broadband availability, map current broadband access in the state, and increase the use of broadband in areas that lack it. The company will also submit quarterly progress reports.
"Broadband availability breaks down barriers to jobs and careers in high-paying fields, it brings health care to isolated areas, it offers new education opportunities for our citizens, it enhances public safety, and it increases the number of services that people can conveniently access from their homes and places of work. Our rural communities need reliable broadband access. Eliminating under-served and un-served areas in our state will provide greater opportunities and benefits to all citizens of Alabama," said Riley.