When disaster strikes, sometimes a 911 phone operator is the one person sitting between the person who's in distress and the help and information he or she needs. The operator needs to be quick and calm in the face of a caller's personal emergency, which could be anything from the mundane to the catastrophic. Lost pets in trees, suspicious neighbors, suicide attempts -- these are some of the crises that compel people to call local emergency centers in a panic. The men and women who receive them need all the poise and nerve they can muster in order to handle the worst.
They need to be like the men and women who graduate from the Houston Independent School District's High School for Law Enforcement and Criminal Justice.
"You've got to hold your composure," said Ashley Ruiz, a graduate of the school who now works as an operator at the Houston Emergency Center (HEC), which employs a staff of 911 call takers and emergency dispatchers from the Houston Police and Fire departments. She knows what skills she needs to handle a frantic citizen. "Learning how to talk to people and calm them down, knowing that they're just a person like you. You have to stay on the line with them until you hear the police in the background."
The school began in spring 1981 as a recruitment source for minority police officers and is designed to teach students about careers in law enforcement and criminal justice, and it's garnered a noteworthy reputation. In 2007, the school was awarded a silver medal in the U.S. News and World Report's annual list of America's Best High Schools.
Each grade level offers classes related to public safety, but the call-taker training portion didn't get into full swing until the last decade. Ruiz was an early trainee in the program during her senior year from 2004 to 2005, which today is called the Emergency Telecommunicator course. Ruiz now works for the HEC and takes pride in her job.
"You're not only going for a paycheck, but you actually help people. Your job has a purpose, a very big purpose. It feels good," she said.
The Emergency Telecommunicator course has been brought to eager students, thanks to a partnership between the school and the Greater Harris County (GHC) 911 Emergency Network in Texas. It's one of several programs the school offers through its cooperative training program, according to Valgene Holmes, the program director and criminal justice co-op coordinator who spearheaded its implementation.
"Back in 1995, the principal of the school at that time came to me and said we needed a program to teach our seniors to have an opportunity for them to pursue a career path, especially for those students who will probably not be able to afford to go to college," he said. The principal, Norma Morris, gave him two options: corrections or telecommunications. He chose telecommunications and began working with the GHC to develop lessons.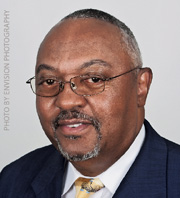 Photo: Valgene Holmes, criminal justice co-op coordinator, Houston Independent School District High School for Law Enforcement and Criminal Justice/Photo by Envision Photography
Holmes said he visited different public safety answering points -- call centers that answer emergency telephones calls -- to create a curriculum that the GHC helped with. "I went to a lot of these agencies to talk to some of the coordinators and found out what each one of them was teaching," he said. "I took all of that information and I came up with a comprehensive curriculum that included the high points of what everybody was teaching."
This was a years-long development process that resulted in the emergency call-taking instruction being incorporated into the high school curriculum