The latest addition to the Air Jaldi mesh network is the Lower-TCV School.
India's first wireless mesh network in the rural areas, Air Jaldi, set up about 7000 above the sea level in the Himalayan region of Dharamshala, India, is partnering with Technology and Infrastructure for Emerging Regions (TIER) research group, a University of Berkeley's Wi-Fi research initiative, to offer high-speed Wi-Fi connectivity solutions over long distance.
Revealing the new arrangement to Digital Communities, Air Jaldi's technology consultant Laird Brown said that the developers of this unique mesh network have "established a working relationship with TIER to offer its complete long distance Wi-Fi connectivity solutions (called WiLD) that will not only allow high-speed data transfers between mesh networks separated by miles, but would also do it at a cost that users in sparsely populated communities can afford."
"We honored to contribute to the ongoing success of the project", said Professor Eric Brewer, Director of the TIER Research Group. "We believe that our technology for high-bandwidth long-distance links will enable it to connect more villages and bring connectivity to wider areas."
WiLD developed by TIER, is a custom long distance, high-bandwidth, point to point Wi-Fi network, which is a fixed point to point wireless technology, like microwave links, that enables organizations to develop their own wireless network in remote areas.
"Wi-Fi originally was never built to serve the sparsely populated areas and that is its biggest drawback for sparsely populated or emerging regions," says Sonesh Surana a member of the 12-member TIER, a research group that aims to address the challenges in bringing the Information Technology revolution to the masses of the developing regions of the world by redesigning and deploying ICT technologies.
"Mostly, sparsely populated areas are low priority for wireless service providers and often do not receive wireless coverage for many years," Surana adds. "And even if such coverage reaches these areas they are usually of very low bandwidth. TIER has solved this problem by developing WiLD, which is a simple and inexpensive software and hardware combination that can provide rural or sparsely populated areas with a high-bandwidth connection to computer networks in places far away."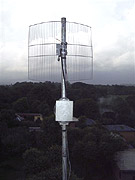 A Monkey-proof router.
TIER claims that currently WiLD is the only low-cost alternative to traditional wireless connectivity solutions for rural regions that achieves the twin-objectives of connecting mesh network over long distances, and at high speed that is "100 times faster than dial-up speeds and carry 100 times as far as regular Wi-Fi."
The primary cost gains, according to TIER, arise from the use of very high-volume off-the-shelf 802.11 wireless cards intended for industrialized markets, but redesigned to be reused for long-distance links via high-gain directional antennas. Another important cost advantage is related to the low weight and volume of the 802.11 equipment, which enables the use of less expensive, lightweight communication towers.
"The technology allows anyone with about $800 for a pair of small computers with directional antennas to network with another location within 50 miles and in line of sight" claims TIER, "and if there happens to be a hill in the way, no problem: A couple more antennas at the high spot can relay the signal between stations."
According to Surana, Dharamshala's Air Jaldi -- which in local parlance means fast connectivity -- is the first project that TIER has tied up with to deploy the WiLD solution. "WiLD is very complementary to what Air Jaldi does," said Surana. "Air Jaldi for instance is a bunch of hotspots spread around semi-urban areas and is separated by long distance and difficult topography like mountains and erratic weather conditions."
Surana says that TIER has already successfully deployed WiLD in two Indian locations: an eye