Interoperability takes many guises, but the basic concept of communicating between and within U.S. agencies and jurisdictions is an essential issue that's being worked out, albeit slowly. Public safety agencies typically have operated independently, but 9/11 and other events showed the importance of sharing vital information to enable more effective, rapid decision-making.
Unfortunately a large percentage of public safety communities may be woefully unprepared for major incidents. These include emergency medical events; hazardous material spills; terrorist attacks; natural and man-made disasters, such as industrial accidents or structural fires; search-and-rescue operations; and hostage crises. These require a large-scale, multiagency response.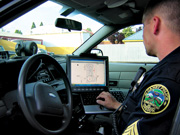 "How well [agencies] work together is entirely dependent on what they've done to plan for major incidents well before they occur," said Alan Caldwell, governing board member of the National Public Safety Telecommunications Council (NPSTC). Caldwell was also a volunteer firefighter in Fairfax County, Va., for 30 years and operational fire chief for more than 20 years.
To achieve true interoperability, all communities ideally would have a public safety network that combines voice, data and video on an IP platform, say many public safety officials. This would enable all first responders to communicate with one another, share information and deploy assistance in a single jurisdiction or across county and state lines.
However, such networks usually come with huge price tags and may be a solution that many cities can only dream of having. So what other choices do cities have?
One alternative is to use available, affordable technology for information sharing as part of incident response. This doesn't constitute advanced interoperability, as a converged network would provide, but it's still a huge step forward.
Sharing Preincident Plan
The Canby, Ore., Fire Department uses Fire Zone software from Beaverton, Ore.-based The CAD Zone to draw building layouts. It utilizes a library containing hundreds of predrawn building templates and fire industry symbols. Each layout shows the building's floor plan and key details, like type of roof, exits, rooms, presence of hazardous materials, hydrants, standpipe location and more. Fire Zone also imports digital photographs and converts two-dimensional prefire diagrams into three-dimensional views.
First Look Pro, a companion CAD Zone software program, retrieves building layouts created with Fire Zone, provides instant access to critical preplanning information, and allows instant viewing of the associated map, photos and other images. First Look Pro also has a separate user mode for police, so fire and police departments can share the same critical preincident planning information.
Val Codino, Canby fire captain and medic who also serves on the Canby Police Department's tactical entry team, decided that sharing Fire Zone and First Look Pro would benefit both fire and police personnel. "I approached my fire chief and the police chief about it, and coincidentally, our 911 center," Codino recalled. "We all decided this made a lot of sense and it was readily accepted."
Canby's collaboration paid off. Successful raids on methamphetamine labs at 300-unit apartment complexes have been launched as the city's fire, police, EMS personnel and 911 center communicated with one another by using the CAD Zone preincident planning software.
"You need to have good, solid information when you're en route [to an incident]," Codino said, "and when you're en route, you want to bring up that information quickly." So far, the software that Canby's public safety agencies are using meets this need. Codino said he believes a large-scale incident could be