Concerns about accuracy and trustworthiness have dogged electronic voting systems since their inception. Local governments throughout the United States began adopting direct recording electronic (DRE) voting machines in the early 2000s, and controversy soon followed.
The devices typically let users register their votes by pressing a button or touching a screen, eliminating paper ballots. But the lack of a paper trail and the potential for tampering with ballot results made many government officials and industry experts nervous.
"If the results are inaccurate, how do we know? We have to rely on the supplier to be able to do the right thing," said Brian Prentice, a research vice president with Gartner's Emerging Trends and Technologies Group.
In May 2004, California's then-Secretary of State Kevin Shelley banned four counties from using e-voting machines and ordered 10 more to improve the machines' security and reliability. That same year, blank ballots were erroneously recorded for 134 Florida voters who used e-voting machines.
In August 2006, Pennsylvania voters sued their state to challenge the certification of DRE voting systems used in 56 counties. Their allegations included claims that the machines at times lost votes, counted votes twice and registered votes for one candidate when voters had voted for another.
"There certainly are people who have been skeptical about whether their vote is counted properly," said current California Secretary of State Debra Bowen, who set strict limits on the use of DREs throughout California in August 2007, citing troubling security flaws in the systems.
"Transparency, in general, helps give people a greater sense of security," she said.
Casting Glass Ballots
Now it appears some of that transparency may be taking root. A California-based nonprofit is creating a suite of open source election software that lets users view and modify the underlying computer code. Proponents of the approach say exposing the code used by e-voting machines allows a worldwide community of experts to evaluate the security of the code and make beneficial modifications.
In October 2009, the nonprofit Open Source Digital Voting (OSDV) Foundation made the computer code for its election system available on the Web. The foundation also plans to make other open-source election tools available this year through its Trust the Vote initiative.
"I think it's very interesting that as we run into some of these problems with voting systems, that individuals in organizations are saying we can solve this transparency problem by open-sourcing the code base. I think that is a great approach to try to deal with this problem," Prentice said.
Open source activity marks a shift for an industry that has been dominated by proprietary solutions. The market has been controlled for years by a handful of manufacturers like Smartmatic, Sequoia Voting Systems, Hart InterCivic and the gigantic Election Systems and Software (ES&S), which claims to have serviced 50 percent of votes in the nation's last four elections. In fall 2009, ES&S purchased another player, Premier Election Solutions, formerly known as Diebold Election Systems to grow even larger.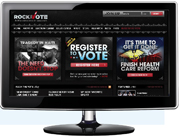 Rock the Vote aims to engage and build political power for young people to achieve progressive change in the United States. Any U.S. citizen can register to vote at www.rockthevote.com.
Ambitious Plans
The OSDV's Trust the Vote project is developing an open source software suite designed to manage elections, from voter registration to the announcement of a winner, said Greg Miller, the foundation's chief development officer. Miller said the project, which relies on a team of volunteer technologists within the OSDV and from the private sector and higher education, is gaining