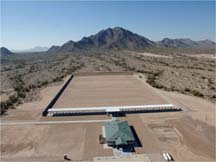 Photo: Buckeye Hills recreational shooting range is off the grid. Power is provided by solar collection panels."
As "green" issues of energy reduction, recycling, alternative energy and a host of other conservation efforts continue to gain traction in our national awareness, and have often stalled at the federal and state levels, communities across the country have taken green issues into their own hands.
Maricopa County in Arizona is the latest community determined to go green by implementing a comprehensive Maricopa County Green Government Program. The initiative outlines numerous specific measures like innovative building designs, employee outreach and fleets of hybrid cars, for a wide swatch of county departments. Ultimately, the plan hopes to improve the region's air quality, improve water quality and quantity, save energy and help train employees to make better conservation decisions.
"We really believe in this and think it's ethical and important, and we think the general public is excited about it," said Jonce Walker, sustainability manager for Maricopa County. "We really want to try to make decisive strides toward things that foster regional sustainability. We really want to make a healthier environment for people to work, help the environment and want to save money."
Maricopa County, which encompasses the state capital of Phoenix, employs more than 11,000 people and has 177 buildings that serve nearly 4 million residents. Since Maricopa County is experiencing explosive growth, with a population expected to double in about 40 years, the Maricopa County Board of Supervisors directed County departments to prepare and implement a long-term green strategy to reduce carbon footprint, save money, and enhance the regions environment.
Representatives from Maricopa County departments and community stakeholders met beginning in October, 2007 to brainstorm ideas to green County operations and formalize a plan to deliver services with less of a negative impact on the environment. In June, 2008, the Maricopa Board of Supervisors implemented the Green Government initiative with the mission to "achieve a cleaner, healthier, and higher quality Maricopa County." The initiative outlines 16 actions followed by 124 specific measures that will help determine progress in meeting the approved actions.
"What we didn't want was a piece of paper that had language that was fluffy," said Jonce Walker, sustainability manager for Maricopa county. "We really wanted to pin down specific time lines and specific measurements, that way we can strive toward those."
Walker was hired as the first sustainability manager for Maricopa County to manage the Green Government program. With measurements that define specific goals, and annual reports that measure progress and identifies program results, he expects the Green Initiative will give realistic expectations for county agencies with measures of accountability.
Even before Maricopa's green initiative was implemented, the county was on its way toward a more sustainable way of doing business by first changing its transportation patterns. The county converted its entire fleet of 430 diesel-powered road vehicles and 199 off-road diesel vehicles, which used 1.1 million gallons of diesel fuel each year, to use biodiesel fuel, which reduces emissions and increases the longevity of the vehicles. In 2009, the Maricopa County Public Works Transportation Agency will develop and implement a program to use bio-diesel fuel and liquid propane gas in a minimum of 50 percent of newly acquired vehicles and equipment. The Transportation Agency will also implement a test program that will inflate their vehicles with nitrogen to increase gas mileage and extend tire life.
The County is also aggressively seeking to replace many of their vehicles with hybrid cars. By July 2012, the Environmental Services Department will have replaced 50 percent of its fleet with alternate fuel or hybrid vehicles. The County hopes to convert its entire fleet of cars to less-polluting vehicles at some point, but has not yet