Joseph Bruno was appointed commissioner of the New York City Office of Emergency Management (OEM) in March 2004, and has since overseen the city's adoption of the Citywide Incident Management System; the growth of Ready New York, the city's preparedness campaign; and helped create Notify NYC, an emergency notification system for city residents.
Emergency Management magazine asked him about the city's plans for stimulus money, as well as public-private partnerships, community outreach programs and more.
Q: What effects have the stimulus package had on your jurisdictional plans?
Bruno: The stimulus package in New York is going to be used mainly on infrastructure - rebuilding bridges. There are six basic projects and about 12 additional projects. Bridges are big, there's some roadway stuff and also a little bit of work on the ferry terminal.
One of the projects is to work on the resiliency of the Brooklyn Bridge in different portions of its infrastructure, some of which I don't really want to go into detail about: resiliency for ordinary incidents, but also for hazards like hurricanes and other things that might come in.
It's important to us that the more we put into infrastructure, the more it will be able to withstand emergencies that occur here. Maintaining transportation networks and routes, which is part of what they're doing, helps us also. It cuts back on the number of emergencies.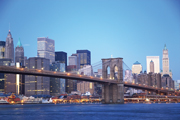 Q: Were these projects in the works before the stimulus package?
Bruno: Some were in the works and some were definitely on hold because of the economy, so we were able to fire them up. The projects were ready to go within a reasonable amount of time. So I think they all were planned, but they certainly all weren't ongoing. The stimulus package has helped because it has allowed six major projects and about 12 additional projects to move forward.
Q: More than a dozen private-sector groups operate alongside you in the city's Emergency Operations Center (EOC). What are these groups?
Bruno: We're probably one of the few cities that have such a strong relationship with the private sector and really incorporate it into our EOC. They sit there with the mayor and whoever else is going to be there, and they are observing and learning.
We have, for example, private universities. We have the Hotel Association of New York City, which covers an enormous number of hotels, hospitalities and institutions. We have the Real Estate Board, which is the ownership of the major real estate in New York - a very large and influential group.
Next are the financial and banking institutions. The Securities Industry and Financial Markets Association, Wall Street and the Food Industry Alliance of New York State are others. The city is filled with restaurants, and a lot of things that occur could affect lots of restaurants, so [the New York State Restaurant Association] sits in the EOC.
The New York City Business Improvement District [participates]. They are the areas of the city, like Grand Central, Times Square, Downtown Brooklyn, part of Coney Island, and all of Midtown and Lower Manhattan that have been designated as business improvement districts - there are now more than 100 of them. They're in Queens, the Bronx and all these areas where industry has continued to grow, business has become more consolidated and it's a distinct area. The good part about them is they give us great access to small businesses when something bad happens.