It's been said that a budget crisis is IT's time to shine. On the surface it may seem counterintuitive. But many argue that when the chips are down, technology solutions, if deployed appropriately, can drive efficiency and cut costs. However, as any public-sector IT veteran can attest, such a strategy can be a tough sell -- or, worse yet, the legislature has bought into technology as a viable solution to budget woes and starts issuing unfunded mandates to "do more with less."
Such was the situation in New York -- a state that, like most others, is in the midst of a budget meltdown. But even with severe financial woes, the business of government must go on. One job New York Deputy CIO Rico Singleton had before him was to improve the state's IT security. The challenge was to do it with a fraction of the money they'd spent on security in years past.
Securing a Deal
One approach many state agencies are taking to trim expenses is growing their mobile work force. Employees who work remotely don't need state vehicles, offices and a lot of the things that cost employers money. One thing they do need, however, is security for their mobile devices. So when Singleton was tasked with improving statewide IT security while also cutting costs, he had to factor in the mobile work force too.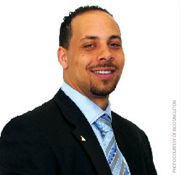 Singleton started looking across the state at purchasing patterns that could be aggregated for enhanced buying power and economy of scale. During the state's annual technology planning process -- when agencies submit technology plans for the ensuing year -- IT security became the leading candidate for an enterprisewide overhaul, thanks in part to the New York State Office of Cyber Security and Critical Infrastructure Coordination having issued a requirement for encryption on all mobile endpoints.
According to Singleton, more than half the state's agencies had already standardized on McAfee security software. "So if you look at leveraging your current install base, and you see that they've already deployed in more than 50 percent of the agencies, then obviously there is a prime opportunity there to potentially leverage that value and savings," he said.
View Full Story