How do you protect more than 80,000 people from an odorless, colorless threat that could kill them within minutes? That was the challenge facing the Oregon communities neighboring the U.S. Army's Umatilla Chemical Depot, one of eight national chemical weapons depots stockpiling mustard gas and other deadly munitions.
Their response to this threat may be one of the most comprehensive and technically innovative evacuation control systems in the nation. By 2004, local officials had created a massive wireless network, a series of "overpressurized" shelters, a software modeling program that tracks airborne chemicals and a tone-alert radio system that sounds voice messages during a hazard.
From perches in any of three command centers, officials can override the lights and signs on local highways, activate drop-arm barricades, and update message signs in Spanish and English. With the flip of a switch, emergency management officials can direct residents out of the local area if there's a chemical leak, and monitor roadways via remote-controlled cameras. The evacuation system also includes a video-conferencing setup that enables officials to converse in real time with officials from other parts of Oregon and with first responders working in the field.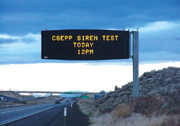 Photo: With a flip of a switch from an official in a command center, message signs are activated to alert residents to a drill or real disaster. Photo courtesy of Morrow County, Ore., Emergency Management Agency.
"We didn't have the time like you would during a conventional evacuation, like a hurricane, to spend two days getting people ready and setting up roads they would take," said Casey Beard, director of the Morrow County Emergency Management Agency, which operates one of the region's three command centers. "We had to be able to instantly reconfigure our transportation network to move people away from the threat area."
The International Association of Chiefs of Police gave the system an Innovations and Technology award in 2006, and it was a finalist in 2007 for the Innovation in American Government Award by Harvard University's Ash Institute.
"What we have here that's unique is an elaborate evacuation control system that is activated by Wi-Fi," said Chris Brown, program manager of Oregon's Chemical Stockpile Emergency Preparedness Program. "We've established a series of portable message boards, we have fixed message boards, and swing-arm barricades that can be dropped -- all [deployed] through a Wi-Fi signal. It can activate messages to inform the public about either moving within the response zone or evacuating."
Largest Wi-Fi Hot Spot
Approximately 1,000 square miles of north-central Oregon, specifically Morrow and Umatilla counties, is protected by the Wi-Fi network. That coverage zone includes the Umatilla Chemical Depot, as well as nearby cities Umatilla and Hermiston. The depot is part of the Chemical Stockpile Emergency Preparedness Program, which is a partnership between the Army and the Federal Emergency Management Agency to safely store chemical weapons.
The Umatilla Depot is slated for closure per the 2005 Base Realignment and Closure act, so all of the chemicals and chemical weapons stored there must be destroyed by 2012. A good portion of the munitions -- including sarin-filled bulk containers; 500-pound and 750-pound bombs; rockets; warheads; and land mines -- already have been destroyed. But a supply of mustard gas remains onsite and will take a few years to incinerate. Therefore, drills and tests of the evacuation system continue, some done twice a day.
Local officials, including Morrow County's Beard and Hermiston, Ore., Police Chief Daniel Coulombe, enlisted a local innovator, Fred Ziari, for help. As founder and CEO of ezWireless, Ziari developed irrigation technology to save water and electricity for Columbia River basin farmers.
"[Ziari] already had a very innovative group of people who were willing to take