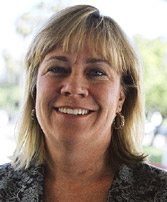 Kristine Sigfridson, Acting CIO of Phoenix, AZ, talks about that city's concerns and the Wi-Fi pilots they have launched despite reservations.

DC: Perhaps if you take it from the top and describe in a broad overview Phoenix's approach to wireless, and how it is different from many other municipalities.
Sigfridson: We've looked at the comparison -- I think the common approach we are hearing is sort of the big bang approach -- go with one big massive RFP implementation and solve all your wireless regardless of the audience. What we decided to do is to break down who is using it and who is providing the service into quadrants. So whether it is the government using it, the city itself, or whether it is public use, and whether it is government provided infrastructure or service, and whether it's private. And with those four quadrants, [to] look at each quadrant individually and determine what's the best wireless technology and whether it is an appropriate business or space for us to be playing in.
So you want me to go through a few examples? I didn't say this before, but one of the obvious is where it is the government using it and the government providing the infrastructure. Our police communications is a perfect example. We have an 800 MHz radio system and there is a very compelling reason why we would build the infrastructure and spend $136 million doing it and a lot of money supporting it because it makes sense. We need to know that it will work. Of course, that's a different technology. So when we get past that real compelling reason, when should the government be providing the infrastructure for government use, even though it is not controversial? And really our focus in that area has been untethered access within city facilities for city staff and nomadic users. People come to the different city facilities as city staff. They don't have a workstation to plug into. They should still be able to get to the city's network and assets. So that's one example.
The next one is when the government provides it but the public are the users. This can be controversial. The one space that we know for sure makes sense -- as a legitimate city service makes sense -- is you are in a city facility [and have] free Wi-Fi access for the public. And we are pretty much taking an approach to make that happen in all city facilities where the public comes. So our libraries are already being equipped. Our convention center is being completely redeveloped anyway. It will have free Wi-Fi in it. City Hall -- the public spaces in City Hall. The Sky Harbor Airport of course. And we'll move that into recreation areas and all those kinds of things as they make sense. Essentially, it is very easy. Wi-Fi is a perfect technology for that.
Get into the private sector providing the infrastructure when it's government users -- we are doing that quite extensively and have been for a long time. We have a lot of mobile worker applications using EVDO, having great success with it -- enough success that we don't have a compelling reason to build our own infrastructure when our building inspectors and people like that are having real good success using EVDO. Even some of our public safety users are doing that.
And so the fourth quadrant is the private sector