With $3.1 trillion being injected annually into the U.S. economy through waterborne commerce, it's surprising that it wasn't until after Sept. 11, 2001, that security officials began thinking about how a terrorist attack on a port would affect the nation. The $3.1 trillion figure from the American Association of Port Authorities is a startling reminder of ports' importance to the economy. The association also reported that port activities in 2007 accounted for $31.2 billion in federal, state and local tax revenue.
Before 9/11, port security mainly focused on keeping cargo safe, and the threat of terrorists using the waterfront to hurt the United States wasn't on most security officials' lists of urgent items for preparedness.
"Security prior to 9/11 was more about cargo theft and pilferage than it was about access control and knowing who's coming in and out of our terminals and facilities," said Bethann Rooney, manager of port security for The Port Authority of New York and New Jersey. "So there was a paradigm shift in terms of security before and after 9/11."
During the past eight years, port security has evolved to include new technologies and regulations. Ports also have been identified as part of the nation's critical infrastructure, and innovative steps have been taken to ensure their safety.
"To a degree, it's like screening passengers in that you're looking for the needle in the haystack of what bad things could exist out there -- anywhere from radiation types of materials to an actual nuclear device to a bioweapon," said Eric Holdeman, consultant and former director of the King County, Wash., Office of Emergency Management.
Ports are a unique environment to secure. They are open environments by nature because cargo can't move unless people have access to the terminals, Rooney said. Security involves not only the port facility, she said, but also the vessels and waterways. Coordination is a key facet of port security because the responsibilities for different components -- like facilities, vessels and crew member security -- reside with different partners.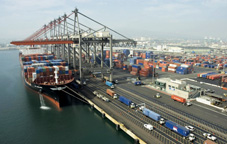 Photo: Port complex of Los Angeles and Long Beach, Calif. Photo courtesy of Charles Csavossy/U.S. Customs and Border Protection
Security Paradigm Shift
Before 9/11, Rooney said physical security at ports was minimal. Many ports -- including The Port Authority of New York and New Jersey -- lacked security professionals and instead were monitored by a law enforcement agency that covered traditional criminal issues. She said the N.Y. /N.J. port still has a Port Authority Police Department, but positions have been added to develop infrastructure security, emergency management planning and security plans. "[Pre-9/11] it was more the tactical security and law enforcement as opposed to the strategic planning and the day-to-day operational stuff," Rooney said.
The Maritime Transportation Security Act that former President George W. Bush signed went into effect July 1, 2004, spearheaded more port security changes. "We were required to conduct assessments, write facility security plans, appoint facility security officers, and then comply with a set of performance-based regulations for securing your perimeter, controlling access, monitoring activities, and screening and inspecting cargo, vehicles and personnel," Rooney said.
The act also required the establishment of Area Maritime Security Committees that include federal, state and local government entities and the boating industry. The committees collaborate on port security plans and ensure cohesiveness among stakeholders. For The Port Authority of New York and New Jersey, this meant collaboration among private companies that each had an every-man-for-himself security philosophy, Rooney said. "Coordinating 190 private companies and 50 or 60 federal, state and local agencies was very difficult, but we achieved it through the Area Maritime Security Committee," she said. "We