If there's one truism that can be attributed to enterprise resource planning (ERP) projects, it's this: They're hard. They're hard to plan, they're hard to predict, they're hard to manage. But with the right combination of committed leadership and skilled work force, plus a little good luck, the grueling work of ERP implementation can pay off.
Such was the case for Portland, Ore. When the time came to overhaul the city's decades-old back-end technology, everyone knew it wouldn't be easy. But no one anticipated how difficult it would become.
Portland aimed to completely replace its systems for financials and logistics, capital projects, HR and payroll. The city's experience offers an inside look at the complexities involved in major legacy replacement projects. Portland's story also provides lessons for jurisdictions contemplating ERP deployments, as delays and technology integrator changes cast doubt on whether the project would succeed. Yet the city persevered and built itself an IT foundation that will last well into the future.
'70s Tech
Ken Rust, Portland's chief administrative officer, was all too familiar with the inadequacies of the city's old systems.
"I always like to refer to it as late-'70s technology the city implemented in 1991 and ran for 18 years," said Rust. Portland used mainframe technology to manage its financial system. Human resources was a separate process. Reports were delivered in a batch format so massive the papers had to be wheeled around on carts. In fact, everything was paper-based. There was no online component to speak of. And over the years, hundreds of unauthorized "shadow" systems sprang up to compensate for the mainframe's shortcomings.
Perhaps the single biggest problem with Portland's mainframe system was that there was no single source of truth.
"If there was any decision-making information that was needed, you could end up with competing numbers because there was no one source of data," said Jennifer Sims, Portland's chief financial officer and executive director of the ERP project. "We were certainly ripe for some change here.
Photo: Jennifer Sims, chief financial officer, Portland.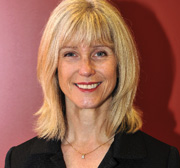 That change had been suggested as far back as 1999. Even then, the technology implemented in 1991 was showing its age. As the 20th century ended, interest in public-sector ERP implementation grew. City officials at the time launched a needs assessment to examine the city's existing back-end technology. Working with the Government Finance Officers Association (GFOA), city staff members created a report that laid out the business case for moving to an ERP environment. Yet in 1999, Portland, like most other entities, had a different technology concern on its plate - Y2K.
Y2K readiness took precedence over the needs assessment report, Rust said, and the city shelved the report for years. Only in 2003 did Portland's Office of Management and Finance (OMF) take another look at ERP.
"My predecessor understood the inadequacies of the system," Rust said. "We brought GFOA back in, we updated that needs assessment, determined the business case was stronger, the ERP product had matured, and all the Y2K issues were behind us. That became the framework to bring something to our City Council in July 2004. The Council green-lighted it in 2004 with an initial budget."
The plan presented to the Portland City Council called for a two-phase implementation. First would be analyzing business requirements and selecting software; second would be the actual technology integration. The OMF was careful to build in the option of choosing different vendors for phase one and phase two, a move that proved particularly prescient.
Portland chose Accenture to handle phase one, but the company's bid for phase two was more than the city wanted to pay, according to Rust. Instead,