GPS monitoring -- embraced as a simple technological solution for tracking the whereabouts of convicted sex offenders -- is proving to be something less than a silver bullet for state and local public safety agencies.
Convinced that GPS monitoring was the answer to the sex offender problem, judges and lawmakers began mandating the technology for high-profile parolees. Beginning in 2005, the technology was widely deployed as means to ensure that offenders complied with the terms of their release, such as staying a safe distance from schools or a victim's home.
Monitoring systems typically consist of a GPS receiver/portable tracking device, radio frequency transmitter, stationary charging unit, cellular telephone and computer software to review GPS data. The devices allow officials to track the parolees' whereabouts -- when everything works properly and when offender cooperates.
But there are problems with the way the technology is used and monitored. False alarms number in the thousands in some jurisdictions, straining manpower and casting doubt on the viability of GPS as a tracking tool for high-profile felons.
In Arizona, a 2007 legislative study found more than 35,000 false alerts by 140 subjects wearing the GPS-monitoring devices.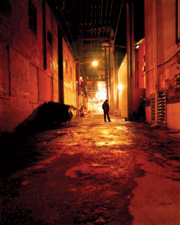 In California, the percentage of transient parolees, those who've been declared homeless, has increased by 900 percent since a law was passed that included GPS as part of the solution. Now, officials say, they're guessing about where the offenders are because more have become transient and the GPS monitoring can be unreliable, especially when the offenders lack real housing where they can charge the devices.
And in Connecticut, officials are pushing for a state-run monitoring facility to keep track of offenders being monitored by GPS after numerous false alarms involving several subjects, including one whose case prompted action.
Though public safety officials typically agree that GPS is a valuable tool, they say it's not a replacement for personal contact with the subject, his co-workers, family and friends that keeps the offender honest.
Released, Arrested, Released
Connecticut's move for a proposed monitoring facility resulted from a recent re-arrest of a sex offender.
After serving 24 years in prison for multiple sexual assaults, David Pollitt was released and put on probation in September 2007. Pollitt was confined to his sister's residence and required to wear a GPS anklet that tracked his whereabouts. In September 2008, Pollitt was re-arrested after allegedly violating conditions of his parole by leaving the property.
However, Pollitt and his lawyer contended that the GPS unit provided a false alert. In fact, they contend that during the one-year period after Pollitt's release, the unit sent more than 40 false alarms.
Pro Tech Monitoring Inc., a subcontractor for G4S Justice Services, eventually wrote a letter to the court that said it couldn't say conclusively that Pollitt had left the property, according to Pollitt's lawyer, John Kaloidis. Two days after Pollitt's arrest, the warrant was withdrawn.
"A tech went to the home where my client is and said there was a problem with the device," Kaloidis said. "[The signal] bounces off cell phone towers, and there are certain points it can bounce off. It didn't find the street where my client was and bounced him to the next street over."
Pro Tech didn't return phone calls and e-mails to discuss the case.
There were also other problems with the tracking device and its monitoring that added up to the false alerts.
Once, Pollitt was plotted on GPS to have been more than 400 feet from his residence at 12:59 p.m. Just seconds later, he was plotted at the residence, according to a report by the Court Support Services Division of the Connecticut Judicial Branch.