The American Recovery and Reinvestment Act (ARRA) may offer billions of dollars in stimulus funds, but short-handed local governments are having a tough time getting their hands on the money.
For cities and counties wracked by hiring freezes and staff layoffs, it's hard enough to cope with existing workloads, let alone the new demands of securing stimulus grants. Finding stimulus-related grants takes time and effort, and then the eligibility requirements must be studied and the application processes completed.
Adding to the burden is the fact that some local officials are struggling to understand the process for chasing down stimulus dollars. And others complain the stipulations on grants funded by the stimulus are so restrictive that applying for them isn't practical.
Too Few Cooks in the Kitchen
No local official wants to tell citizens that available grant money wasn't pursued. But deciding which employee to pull off a project to seek that money is a dilemma, said Contra Costa County, Calif., Chief Information Security Officer Kevin Dickey. "We really don't have the resources to go out and do the research," he said.
San Jose, Calif. CIO Steve Ferguson made a similar complaint.
"We're rewiring the whole police campus right now, which is a $2 million project. I can't stop that project to chase after some stimulus money when I'm not sure how much of a chance we even have to get it," Ferguson said.
Magnifying the problem of limited staff is how difficult it is to understand the process for finding stimulus grants, Dickey said.
"It seems to me there is no real communications structure in place from the feds to the state to the counties and cities that says, 'Here is your opportunity. Here are the instructions. Here is what you need to do, and this is the date you need to get it done,'" Dickey said. "I'm not saying it doesn't exist. I just haven't seen anything. A lot of local governments and state departments across the nation are going to miss opportunities because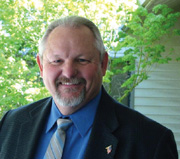 they didn't know somebody was at their door knocking."
But not everyone says identifying stimulus money is difficult. Ferguson said he thinks the Obama administration's Recovery.gov Web site is a useful tool. He added that the Public Technology Institute, a peer organization serving government IT departments, provides valuable stimulus-related alerts too.
To the Rescue?
A few CIOs who spoke with Government Technology suggested that private industry could play a bigger role in helping short-handed local governments find grant opportunities. "The knights on white horses are going to have to be the vendors that typically want to do business with us or are doing business with us," Dickey said.
Photo: Contra Costa County, Calif., Chief Information Security Officer Kevin Dickey
Ferguson agreed the idea was viable. Language in ARRA is lenient about the roles vendors can play in that process, he said. For example, governments and vendors are both permitted to apply for broadband stimulus money, according to Ferguson.
He said a government agency could conceivably release a document specifying what it wanted in a broadband network. Vendors competing for the job could then incorporate those specifications into stimulus applications and submit them to the federal government. The vendor chosen by the federal government for stimulus funding would then get to partner with the local government. Vendors would shoulder the burden of applying for stimulus grants and