Every so often, America embarks on a project so audacious that it hardly seems possible. Prime examples: the top-secret Manhattan Project that made the first operable atomic bomb, the construction of the country's interstate highway system starting in the 1950s, and President John F. Kennedy's challenge to land men on the moon.
These government-sponsored projects often arise during times of political or economic duress, and so it is today with the $4.5 billion of seed money for a nationwide "smart electricity grid" inserted in the economic recovery package that was approved by Congress shortly after President Barack Obama took the oath.
The leadership is pinning much of its hopes for America's long-term economic renewal on a nationwide, interconnected system of smart electricity meters and sensors that would increase energy efficiency, reliability, and also encourage "green" technologies like wind and solar generation and hybrid cars.
It won't be an easy feat. There are parallels between the country's attempt to build a new electricity network and astronaut Neil Armstrong's first steps on the moon, said Jim Marston, Texas regional director of the Environmental Defense Fund.
"NASA knew where they were trying to get and they knew where they were, and so after the goal was announced, they spent a little while figuring out the path to get there. Shortly after that, they actually put the engineering on the ground," Marston said.
Government's Pivotal Role
The smart grid, Marston said, is still in the planning stage, but more smart grid test projects are under way at the local level, in places like Miami; Austin, Texas; Massachusetts; and Southern California. State and local governments have facilitated many of these projects in partnership with nonprofits or technology vendors.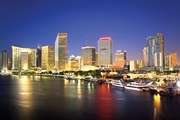 In April, Miami launched a $200 million smart grid project called Energy Smart Miami, with the goal of connecting almost all homes and businesses in Miami-Dade County to a smart grid by 2011. The project is being driven by the Florida Power & Light utility company, supported by General Electric and Cisco Systems. Much of the project will be funded by Obama's economic stimulus package.
Massachusetts is signing off on a few communities' smart grid pilots, which are mandated by the state's 2008 Green Communities Act. In one such test, 15,000 smart meters will be installed in homes in Worcester, Mass., by National Grid, a London-based electricity generator.
In Austin, Texas, the municipally owned utility company will finish deploying smart meters to the city's homes later this year. And a public-private initiative that includes the City Council has been formed to study how to best use the smart meters to transform Austin's energy infrastructure.
And Southern California Edison, one of the largest utility companies in the U.S., will install 5 million smart meters in its coverage area by 2012. Edison estimates that the smart meters will save peak power consumption that's the equivalent of one big power plant. The move toward smart grid is being motivated by California's renewable energy portfolio standard that requires electricity companies to get at least 20 percent of the power they distribute from renewable sources by 2010.
What's a Smart Grid?
Though regulators, politicians, vendors and environmentalists haven't come to a consensus on what exactly constitutes a smart grid, one of its core features will be "smart" electricity meters that integrate IT. Smart meters will be installed in homes, businesses and public buildings - virtually anywhere