The smartphone is rapidly catching up with the mobile phone in terms of ubiquity and exceeding it in ability. Users of both types of devices can, of course, make calls, but add e-mail, Internet access, software applications, data storage - even specialized operating systems - and a smartphone becomes a mobile computer.
According to analysts at IT research firm Gartner, vendors - including Nokia, Apple, Research in Motion and Fujitsu - shipped 32.2 million smartphones worldwide in the second quarter of 2008 and 36.5 million in the third. Second quarter shipments to North America were up almost 79 percent, making this the fastest-growing region for smartphone adoption.
Smartphones enable public-sector employers to provide workers with the tools to talk to one another and access e-mail, the Internet or other server-supported applications while in the field.
"It's something that people are seeing more and more as a necessary way to do business and a way to conduct government than as your corporate perk or something that high-paid executives have. It's becoming less and less expensive, and people are starting to realize the benefit in government, not just in corporations," said Chris Andrews, a mobile wireless specialist at CDW-G who works with state and local government customers. "With network speeds [and] bandwidth going up, we're on the verge of really duplicating a desktop computing experience in the mobile space."
Andrews and his colleague Josh Mulloy, a mobile wireless specialist who works with federal government customers, have seen mobile solutions become more prominent in government as departments recognize the value of smartphones, cell phones and other wireless devices. According to Mulloy, notebooks have become almost standard technologies in the public sector, and smartphones are going in the same direction.
Smartphones in Action
The Hawaii County Police Department is preparing to deploy BlackBerrys with officers to gather real-time information with BIO-key's PocketCop software, which runs queries for information from motor vehicle and criminal databases, such as the National Crime Information Center. With the tool, officers can also send and receive information from other officers or the computer-aided dispatch system.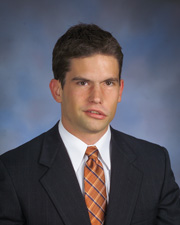 Photo: Chris Andrews is a CDW-G mobile wireless specialist who works with state and local customers. He sees how agencies are buying smartphones and other wireless products for their business needs.
The mobile solutions will save officers time and alleviate the hassle of calling a secretary or dispatcher to run information during an emergency, said Maj. Samuel Thomas of the department.
"Basically we're going to use it for connecting with our databases and doing car lookups, driver's license lookups [and] lookups into our records-management system. So if the detectives are in a crime scene and someone says, 'I think John Doe committed the crime,' the detectives will have the opportunity to see [if] we have John Doe in the database right there at the crime scene," he said.
The smartphone-enabled software benefits officers who want data about speeders or drunk drivers, and cops who want to notify fellow officers about suspects fleeing scenes. Crime-scene investigators needing information about particular locations also reap the advantages of smartphones.
"Today's technology is information at your fingertips, and without a doubt, we felt we needed that," Thomas said.
The police department received $48,000 in seed money from the U.S. Department of Homeland Security to pay for 120 PocketCop software licenses in 2008. The department plans to start using the software and BlackBerrys by April 2009. Hawaii County had already purchased another law enforcement solution from BIO-key called MobileCop in 2007 for mobile data