Every year, the Center for Digital Government conducts the Digital Cities and Digital Counties surveys. The 2006 surveys polled more than 300 local governments about everything from organizational arrangements to infrastructure to services.
The surveys show that local governments deploy wireless networks to solve a number of challenges -- often simultaneously -- including economic development, digital inclusion, increasing government efficiency and improving constituent services.
The dominant technology currently in use is Wi-Fi/mesh. But for some jurisdictions, broadband cellular cards have proven more advantageous for mobile staff. Though microwave access appears somewhat common for nonpublic government networks, such as mobile police networks and fixed WANs used by government staff, at least one WiMAX-standard deployment for public access has cropped up in Manchester, Conn., where the city is deploying a small test network for webcam video surveillance, and the city plans to cover the entire city in the future.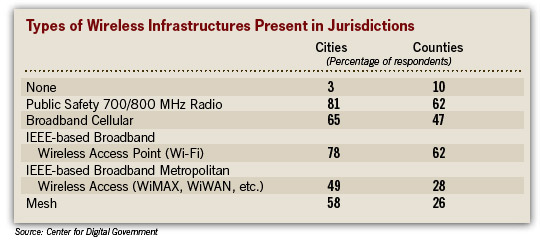 Broadband Plan
Broadband deployment strategies are diverse. The majority of local governments are relying to some degree on private providers for community wireless broadband deployments, with less than 10 percent of jurisdictions using a public utility or government-owned network model.
Regional collaboration has also come to light in a few places, often with a county and the cities within it collaboratively developing a broadband strategy. In one of the largest regional collaborative initiatives, 10 cities in the Denver metro area banded together, forming a consortium, known as Colorado Wireless Communities (CWC), to attract a private-sector partner to cover approximately 200 square miles area with wireless access.
There is much to be learned from the aggregated data collected by the Center for Digital Government's local government surveys, and plenty of inspiration to be found in the innovative projects brought to light. The following pages highlight emerging wireless trends in government as well as some of the innovations reported in 2006. -- Emily Montandon, Special Projects Editor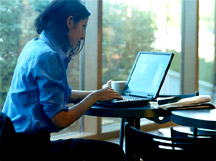 The Multiplier EffectM
By Shane Peterson, Associate Editor, Government Technology
Communities of the 21st century take a different approach to economic development than communities of the past. In today's globalized world, telecommunications infrastructure is key to successfully stimulating a community's economic environment. As a result, today's leaders have actively invested in network infrastructure, such as fiber optics or citywide Wi-Fi, to create the backbone necessary for 21st-century commerce.
Stimulus
In 2002, Tallahassee, Fla., leaders authorized spending for a "Digital Canopy" project that provides free wireless access to the Internet for the city's airport and a large downtown area. City officials said the Digital Canopy is a crucial component to projecting the tech-friendly environment that IT companies look for in a community when considering relocating offices or opening up new ones.
Colorado cities too recognize the economic development benefits of telecommunications infrastructure. Boulder, Colo., IT staff began an initiative in April 2006 to evaluate the feasibility of a communitywide wireless broadband network to, in part, stimulate economic development.
Nine other cities in the Denver metropolitan area partnered with Boulder, creating the Colorado Wireless Communities (CWC). The CWC planned to release an RFP in January 2007 for private-sector investment in wireless Internet connectivity that would blanket approximately 200 square miles and serve about 630,000 people in those 10 communities.
Economic development isn't just about bringing new companies to a community. Revitalizing an existing neighborhood can create grass-roots growth in a community's economy. The Hollywood, Fla., Community Redevelopment Agency sponsored a similar project that offers free Wi-Fi Internet access in the city's downtown and beachfront areas for residents