There's a lot of talk on the street about Sprint's plans if they decide to bail on Clearwire's WiMAX network. There is a definite plan in the works and it has a lot to do with migrating the 152MHz of upper and lower band Educational Broadband Service (EBS) spectrum to LTE.
Sprint has said it will make an announcement in around six months surrounding possible transition from WiMAX to LTE. By that time we should know what is going to be happening with Clearwire -- who has the rights to the EBS spectrum in almost all large US metro markets. This time frame is also consistent with the likely extension of the FCC's mandated EBS "substantial service" deadline from May 1, 2011 to November 1, 2011 filed for in mid February 2011. This will allow more time for mostly rural EBS license holders (educational entities) to meet safe harbor requirements and keep their EBS licenses.
Clearwire's spectrum lease expense is upwards of $290 million per year. Clearwire has stated recently that they are moving away from retailing their service and will be a wholesaler to not only Sprint but Comcast and Time Warner also. Assuming a wholesale ARPU (average rate per user) of around $4.50 per sub they will need over 64 million subscribers just to break even on the spectrum lease expense not even taking into account normal operating expenses.
Sprint is almost to that number with 52 million subscribers. A merger with T-Mobile US, with their 31 million customers, would put them over the top as far as covering the spectrum lease expense. And with Comcast and Time Warner needing a mobile wireless strategy going forward, their combined 84 million customers (some are already on Sprint's network) would be the gravy.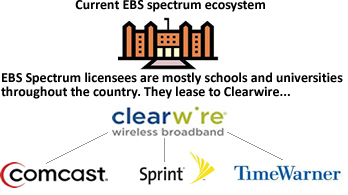 So where does this leave Clearwire (or CLEAR), the Company?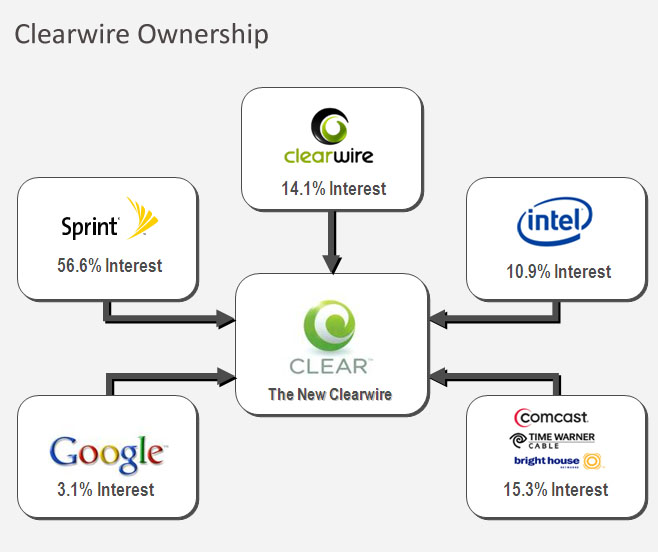 Clearwire will probably end up going away. The departure (resignation) of Clearwire Founder/CEO Craig McCaw on December 31, 2010, for no apparent reason, on the heels of three Sprint executives' stepping down from Clearwire's Board might indicate that new Clearwire ownership structure is on the horizon.
With mobile wireless (4G LTE) at the forefront of federal, state and local government agendas (Obama's new Wireless Innovation and Infrastructure Initiative), and private sector agendas, it seems that a restructure is imminent and makes a whole lot of sense.
Comcast and Time Warner need a mobile wireless strategy going forward, T-Mobile US needs LTE ready spectrum and Sprint needs to stay competitive and grow their business. There is plenty of 2.5GHz EBS spectrum to facilitate this restructure (see diagram below)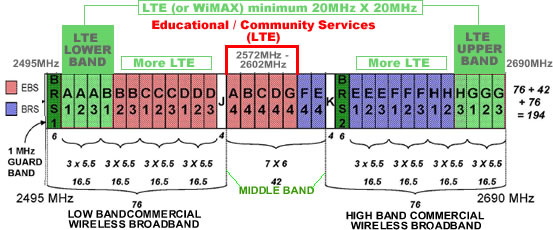 Note: Verizon and AT&T only have 10x10 MHz LTE configurations available whereas the EBS LTE offers 76MHz in both the lower and upper EBS bands.
Sprint is in the driver's seat at this point with 54% ownership of Clearwire. The Sprint/Comcast/Time Warner model has been in the works for some time. New player T-Mobile US is knocking on the door. Who else can step up? How about Sony and News Corporation.
Two big companies with deep pockets. Sony just recently inked a deal with IPWireless to develop 4G technologies for delivery of their content. Murdoch's NewsCorp just go into the Education Business with the creation of NewsCorp's new Educational Division and their first acquisition was an educational wireless applications provider. NewsCorp could also take the reins and help to transition the newspaper/media publishing industry from print to digital. Learn more here >>
I wrote in detail about opportunities, strategies and new alliances that Sprint could invite into their camp that would bolster their brand by putting them into the Education Infrastructure Business using the asset they will ultimately control... the LTE ready Educational Broadband Service (EBS) spectrum.
Who will end up the winner here? End users. By tapping into the educational infrastructure markets and customer base Sprint could make significant gains in subscriber acquisition or transition subscribers from Verizon and AT&T, keeping costs down for us users. And when we talk of shortage of spectrum in the US, maybe just better allocation and use policy would alleviate some of those false innuendos. This is a topic of future debate based upon policy change.
Clearwire / Sprint - Opportunities, Solutions, Strategies and Alliances