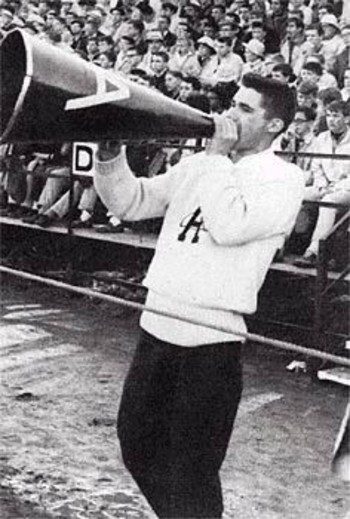 Do City, County and State government CIOs have a responsibility to be "cheerleaders" for their jurisdictions for economic development of the community?
I think so.
We CIOs have talked about "aligning information technology with the business" of government and "customer service" to other departments. Those are still important, although, increasingly, CIOs are contracting a lot of the actual "doing" of technology to software-as-a-service and other cloud providers.
But most elected officials have little interest in internal information technology functions, However virtually every one believes that bringing new business to their community – or growing it – is the key to improving the overall quality of life. New businesses bring new jobs. Governments prize technology businesses, especially, because they are "cool", generally "green" and also bring high-paying jobs. Look on the websites of any number of cities and counties for economic development goals, and you'll see emulation of Silicon Valley.
The governments' CIOs are the technology experts within each government. Where better to get the expertise to help entice or grow such high-tech businesses?
Seattle recently sponsored a "Startup Weekend – Government Edition". Startup Weekend is a non-profit company which has sponsored more than 500 such weekends across the globe. The idea is simple: bring entrepreneurs together to generate new ideas for businesses in the community. The new ideas don't have to involve tech. They could be new foods (Super Marmite) or Foodspotting which finds great dishes, not great restaurants or Zaarly, a service-finder-service which does cool things like finding someone to bring flowers to your girlfriend or clean your house).
Startup Weekend – Government Edition, was the first-ever Startup Weekend event focused on Government. It came about under the leadership of the City of Seattle's Sabra Schneider, who oversees the City's web team, community technology and Seattle Channel. Sabra partnered with Marina Martin of a City advisory panel, the Citizens Technology and Telecommunications Advisory Board, as well as Zach Cohn of the Startup Weekend folks and Wil Saunders of the State of Washington's Department of Commerce.
During the weekend, we looked for cool applications which used open data available on the City of Seattle, King County and State of Washington Open Data sites. We got a number of cool ideas, and those are being further developed in the Evergreen Apps Competition, which has over $50,000 in prizes. Judging and winners will occur in September, so there's still time to get in on the action.
Besides Startup Weekends, City, County and State CIOs can take many other steps to help their elected officials.
Steve Reneker, CIO of Riverside, California, has helped transform his City into a high-tech mecca not just for the United States, but worldwide. Riverside was recently recognized as the first U. S. City in ten years to receive the "Intelligent City of the Year" award.
Chief Innovation Officers are sprouting as well, both to transform their governments internally and to foster economic development. Bryan Sivak in Maryland (just named as the CIO for the federal Department of Health and Human Services), Adel Ebeid in Philadelphia, and John Tolva in Chicago wear this sort of hat.
But I believe every CIO has a bit of the entrepreneur in her/his blood. After all, we run businesses internal to our governments, balancing profit and loss, constantly innovating, constantly doing customer support for the other functions in government.
So being a "cheerleader" for economic development in the wider community should be a natural progression for most of us.
---
Postscript: In this blog post I talk about CIOs or Chief Information Officers as cheerleaders, yet I did not mention my role, when I was CTO/CIO at the City of Seattle, in Startup Weekend Government Edition. Essentially, I got out of the way, and encouraged Sabra Schneider, Marina Martin and CTTAB to move forward with it. Quite often leadership is simply giving good people the running room and support to bring a great idea to fruition. That's what happened here.