The economic crisis that's hammering the U.S. has created space for innovative thinking and new ideas. "The age of market fundamentalism, with its ideological belief that markets are always right, that wealth should trickle down and that less government is better, is simply over," said Mark Cooper, research director of the Consumer Federation of America. Furthermore, Cooper said, "Public policy must start from a new understanding of the role of government and the private sector." This new reality has created an opportunity to improve broadband build-out.
For the past six months, a multibillion dollar expenditure battle has waged in Washington, D.C., that will help decide America's communications future. With hundreds of billions of dollars being spent by Congress to stimulate the economy, broadband is finally getting its due. John Windhausen, president of Telepoly Consulting, sums up the rationale: "Big broadband networks promote economic growth and jobs; companies locate businesses in communities that have faster broadband networks; and, in a global economy, local broadband networks help the U.S. attract businesses from overseas."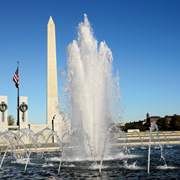 However, until congressional leaders decided what provisions to include when they reconciled the House and Senate versions of the Economic Stimulus bill, no one really knew exactly how much funding would be made available and through which specific processes and agencies. The compromise plan, we now know, provides $4.4 billion to extend broadband and wireless services to rural, suburban and urban areas through the U.S. Commerce Department's National Telecommunications and Information Administration and $2.8 billion to expand broadband access to rural areas through the Department of Agriculture's Rural Utilities Service. Spurred by this investment, a healthy debate has sprung up over the details of what an "ideal" broadband plan should entail - a debate that will continue to have relevance as decisions are made on exactly how this stimulus money is spent.
As a co-author of one of these broadband proposals, I've focused on trying to solve the "middle-mile problem" - the lack of competitive service providers connecting last-mile networks to the Internet backbone. I've talked with many key policy proposal drafters in Washington, D.C., and several overlapping facets among these proposals point to better ideas that could be incorporated into an ideal long-term broadband infrastructure build-out. At its heart, however, is a dawning understanding that the days of Internet connectivity being a luxury item are long behind us. Today's debates center on what it means to live in a 21st-century society and work in a modern economy.
Is Broadband a Luxury?
We live in a civil society - a place where primary education is free to all, anyone can enjoy a walk through public parks or on sidewalks and freely drive on streets. Libraries in the U.S. loan books for free - literature that can be read on a spring day in parks or beneath the streetlights of Main Street on a warm summer's evening. You don't have to tip the firefighters or pay for police protection. In a civil society, public safety is freely available to everyone.
Americans enjoy myriad services and resources that they don't pay for each time they use them. Yet each of these key facets of contemporary society is part of a new social contract, adopted only after years of battle and turmoil to overcome a status quo (e.g., private fire protection and educational services, or for-fee libraries and parks). Eventually, however, some newfound service models are deemed to provide such an enormous benefit to the population that society is willing to invest in ideas that "lift all boats." As a society, each of us is