Manor, Texas, isn't notable for much, except that it's where the famous movie What's Eating Gilbert Grape was filmed. But don't be fooled by pickup trucks and cow pastures. The city of 5,000 people is using a relatively new technology that lets anyone with a camera phone instantly access information about local points of interest.
"As far as I know, we are the first town in America to do this," said 22-year-old Dustin Haisler, the CIO of Manor.
Haisler, who also serves as city secretary and associate judge -- he takes defendants' pleas and issues judgments and warrants -- was referring to Quick Response (QR) codes, which are two-dimensional bar codes similar to what's found on a FedEx envelope. Manor placed them at various spots around town.
QR codes are an arrangement of squares, as opposed to the traditional lines used in supermarket bar codes. The squares encode information horizontally and vertically, making them able to store more information than traditional bar codes. Aided by downloadable, free software for mobile phones, users can snap a photo of a QR code, which then directs them to a Web site for more information.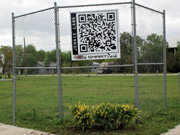 Haisler, who is also a student at LeTourneau University, is the mind behind the introduction of QR codes and is part of Manor's larger effort to streamline its infrastructure on a shoestring budget by beta testing products and using open source software. "We use things that are open source, that are free and available that we can expand," he said. "When we beta test things, we can say, 'OK, here is what needs to be fixed for your end-user.'"
Haisler was looking for a way to streamline Manor's filing system when he discovered the technology. "We had done some stuff with bar codes, and we were trying to figure out a way to encode a lot of information in a very small amount of space, and something that was cheap," he said. Later at a meeting in City Manager Phil Tate's office, Haisler said he realized QR codes had "a lot of economic development potential."
Small Investment
While it may seem unusual for a city of Manor's size to embrace such forward-thinking technology, the investment's low price tag makes it a viable option for cities with smaller budgets. Manor is uniquely situated to embrace new technology because of its proximity to many of east Austin's high-profile technology companies, such as Applied Materials Inc. and Samsung Austin Semiconductor. Haisler and Tate said QR codes are one way to keep the city at the front edge of new technology and make it an appealing place to live, especially for residents working in Austin's tech industry.
Manor is also using QR codes to one-up Austin, which invested with a local company to provide a GPS-guided tour of the city that costs tourists $11.95 each. But for only $400, Manor installed bar codes in various locales to create a walking tour of the city that's available to anyone with a camera phone and the time to download the free software.
"We don't have a lot of money to develop technology infrastructure, so we try to innovate our own solutions," Haisler said. "We've had a council and city manager who have been very supportive of innovating solutions instead of financing them through bonds or a lease to purchase, which don't spur any creativity."
Manor first used the technology to help make the city's major park a "smart park." A large QR code was posted at the entrance to Jennie Lane Park; when scanned it directs mobile phones to a Web site that provides information about the park, such as who it's named