Photo: Maryland Gov. Martin O'Malley. Photo by GTtv.
This past December, the same month that President Barack Obama named Howard Schmidt as the first-ever White House cyber-security coordinator, hackers from China allegedly attacked computer systems at Google and at least 20 other big U.S. companies.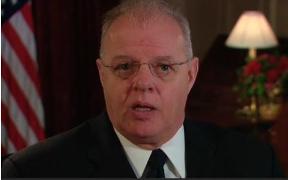 Photo: Howard Schmidt, White House cyber-security coordinator. Photo courtesy of the White House.
According to Google, evidence suggests that the invaders were trying to access Gmail accounts of Chinese human rights activists, "most likely via phishing scams or malware placed on the users' computers," according to the Official Google Blog.
Although Google officials believe the hackers failed, the attack has pushed the mega-corporation to the brink of shutting down Google.cn and possibly its offices in China, wrote David Drummond, senior vice president of corporate development and chief legal officer for Google.
The Cold War may reek of last century, but acts of espionage and technological competition emanating from the world's superpowers still happens today on a battleground known as cyber-space, where the weapon of choice is a computer.
In this cyber-war, hackers can crack into restricted databases of large corporations and steal their sensitive information. To combat this threat, states like California and Colorado have channeled funds into comprehensive cyber-security programs.
And this week, Maryland leaders stepped up to declare the state the nation's "epicenter" for cyber-security innovation, following a new report that cites federal facilities, academic institutions and industry strength as key reasons why Maryland can claim the title.
"Cyber-security touches everything we do -- from grocery shopping to banking, to heating our homes and talking on cell phones," Maryland Gov. Martin O'Malley said in a statement. "With 50,000 new computer viruses emerging every day and hackers becoming increasingly advanced, the need to protect our country, our companies and our families has never been more urgent."
Watch Video: Gov. Martin O'Malley of Maryland discusses StateStat GIS for accountability and transparency.
STEM the Threat
As the home of such federal facilities as the U.S. National Institute of Standards and Technology (NIST), world-class research schools such as Johns Hopkins and 12 military installations, "Maryland is poised to lead the nation's war on cyber-crime," according to O'Malley, who serves as co-lead on homeland security for the National Governors Association Public Safety Task Force and on the U.S. Homeland Security Advisory Council.
Maryland boasts one of the highest concentrations of technology jobs in the nation at 10 percent of total jobs. In computer systems design and related services -- the closest bucket tied to cyber-security -- the state grew by 7.2 percent year over year, said Christian S. Johansson, secretary of the state's Department of Business and Economic Development.
"In a recession, that is eye-popping growth," Johansson said. "The biggest challenge is having the talent to fill these positions to allow the companies to grow as fast as the market demands."
A 32-page report called CyberMaryland lays out a comprehensive plan to bolster the state's cyber-security efforts, which includes bringing in more tech businesses and improving work force development for resident talent. The report proposes the creation of a certificate program for cyber-security at two-year and community colleges. Efforts may focus on improving science, technology, engineering and math (STEM) education and developing scholarships that encourage students to go to college in the state, and stick around for jobs.
This education push echoes the 2009 recommendations by O'Malley's STEM Task Force that include tripling the number