With millions of Americans expected to confront an array of voting technologies on Nov. 4, yesterday election administration experts from the Brennan Center for Justice, Common Cause and Verified Voting issued a 50-state report card that grades each state on its preparedness for election system breakdowns and offers concrete steps election officials can take in the weeks before the election to make sure every vote is counted accurately.
The report, Is America Ready to Vote? State Preparations for Voting Machine Problems in 2008 finds that many states have made dramatic improvements in their voting systems, but nevertheless urges election officials to have backup measures in place-like emergency paper ballots and sound-ballot counting procedures-to ensure the integrity of the vote.
"There's no question that in the last few years, election officials around the country have made dramatic improvements that will make it much less likely that voters are disenfranchised due to voting system failures," said Lawrence Norden, director of the Voting Technology Project at the Brennan Center. "Unfortunately, there is still much work to be done to ensure that every voter will get to vote and every vote will be counted if something goes wrong with voting systems on Election Day," he stated.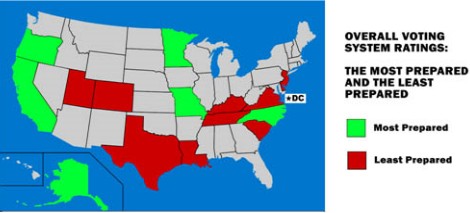 Is America Ready to Vote? evaluates each state by four criteria: procedures for issuing emergency paper ballots, reconciling ballot tallies, providing paper records of votes cast, and post-election audits. The report reveals a broad range of preparedness across the country to address Election Day voting system meltdowns.
For example:
Of the 24 states that use voting machines, eight states, including Colorado and Virginia, have no guidance or requirement to stock emergency paper ballots at the polls, said the report. In contrast, 12 states, including Ohio and North Carolina, recommend emergency paper ballots to be given to voters if machine failures are causing long lines.
While all states do some form of ballot accounting and reconciliation, the 50-state report card finds that the requirements in nine states (Alabama, Illinois, Kentucky, Maine, New Jersey, South Carolina, Texas, Utah and Virginia) fall far short of best practices-meaning there are insufficient provisions to make sure that every vote is counted, and only once.
28 states get "inadequate" on post-election audits because they lack paper records from which to conduct audits (like Georgia, Louisiana, Virginia) or because they do not mandate manual audits even where paper is available (like Michigan, Montana and others).
"In every national election since 2000, we have seen voting system failures stem from machines that won't start, memory cards that can't be read, mis-tallied votes, lost votes and more. As this report shows, most states have not adopted laws and procedures to effectively address an election system meltdown. This will hopefully be a last-minute wake-up call to jurisdictions that aren't prepared for an election system failure," said Susannah Goodman, Common Cause's director of election reform.
Is America Ready to Vote? comes in the wake of several highly publicized voting system problems this election cycle:
In the Republican presidential primary in Horry County, South Carolina, touchscreen machines in 80 percent of precincts temporarily failed, and a number of precincts ran out of paper ballots and sent voters to cast provisional ballots at other precincts.
In Ohio's March 2008 primary, votes in at least 11 counties were "dropped" when memory cards were uploaded to computer servers due to a software flaw
In the August 26, 2008 primary in Palm Beach County, Florida, several votes in a judicial contest