Nancy, a teacher in a primary school in Singapore, always thought David, a student in her class, was the brightest. Last week, however, Nancy almost wished that this wasn't the case. On a class field trip to the Singapore Zoo, David wanted to know why rhinos are called rhinoceros. Nancy was almost at loss for words. But thanks to Singapore's just-launched Wireless@SG, it took Nancy just a moment of Internet search with her personal digital assistant to have the answer.
With a mindset that if its good enough for Taipei, then there is no reason Singapore should be left behind, Wireless@SG is the Singaporean initiative to bring citywide (island-wide in Singapore's case) wireless to everyone. With its launch in December 2006, a month ahead of schedule, Singapore is now the second nation in Asia after Taipei, to possess an anytime-anywhere-wireless broadband service.
Actually right now, anytime-anywhere accessibility is perhaps not the right word to use. While most of the high traffic areas such as central Singapore, its business districts, important tourist spots -- the Zoo included -- and even the beach is covered, the whole island is not as yet. "The Wireless program went live in December 2006 with over 600 hot spots in operation," said Ka Wei HO, spokesperson of the Infocomm Development Authority of Singapore (IDA), its information technology master-planner and developer. "The plan is to have 5,000 hot spots by September 2007." That is when Wireless@SG can claim that it covers the whole of Singapore.
The concept of Wireless@SG was the brainchild of IDA and is a part of Singapore's plan to develop a Next Generation National Infocomm Infrastructure, which also includes the development of an ultra-high speed network. According to IDA, Wireless@SG "forms a critical component" of Singapore's new master plan dubbed Intelligent Nation 2015 (iN2015). The plan, launched in June 2006, is Singapore's blueprint to help the nation realize the potential of Infocomm and transform Singapore into "An Intelligent Nation, a Global City, powered by Infocomm" by 2015.
Wireless@SG follows a private-public partnership model. It was conceived and developed by the IDA, a government enterprise, but it is run by the private sector. In October 2006, to kick-start deployment of the project, IDA awarded implementation contracts to the three private telecom companies -- iCELL Network Pte Ltd., QMAX Communications and Singapore Telecommunications.
Tiered Service
While the basic tier of 512 Kbps is offered free to encourage adoption, the three operators are also offering premium services for a fee. These include such things as premium content, bundled video conferencing, VoIP and streaming video applications, online gaming and location-based services. The three operators will be investing about Singapore $100 million over the next two years to deploy Wireless@SG and the IDA will bear about S$30 million of the deployment costs.
The free unlimited use will last three years. SingTel and iCell Network are not willing to comment on what will happen thereafter. However, QMax Communications -- the third operator -- at this point has not committed to offering free Internet access beyond a two-year period. "It will depend on the market environment at that stage, as well as what the other operators are offering then," says Qmax director Alex Tan.
But even if basic service ceases to be free after the initial launch period, Prime Minister Lee Hsien Loong said on the day of the launch that "after the free years, it is expected that access will still remain highly affordable."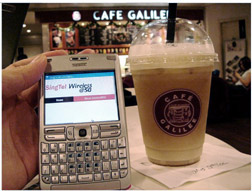 Kevin Lim, an erstwhile Singaporean but now a student at the University of Buffalo for the last six years, checking out Wireless@SG on his recent trip to the city. It is "Wireless and loving it" he says. "Not really island-wide,